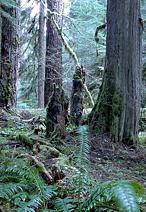 A Western Redcedar (Thuja Plicata)
forest on Vancouver Island.

Western Redcedar (which is genetically different than other Cedars) is the provincial tree of British Columbia.
Growing from Northern California to Alaska, the Redcedar is valued as much today as it has been by First Nations peoples for centuries past.

Design on time.

Based in Langley, B.C. Canada, Cedar Park creates, edits, refines or promotes your corporate image or products. From logos and print media to music production and multi-media presentations, Cedar Park can get you noticed. Instead of waiting for your next project to become overdue, contact Cedar Park and see how we can help you beat your budget and exceed your expectations.

To get an overview of the scope of our work visit the

Services

section.

For a virtual portfolio of some of our past work, visit the Projects section.

To watch and listen to some of our media productions, visit the Media section.

Check out some of our recommended sites on the Links page.

Redwoods Golfcourse Webcam
Langley B.C. Updated daily from
6 a.m. - 9 p.m.


Click here for the location of
Cedar Park Design.